China – Four Cities and a Cruise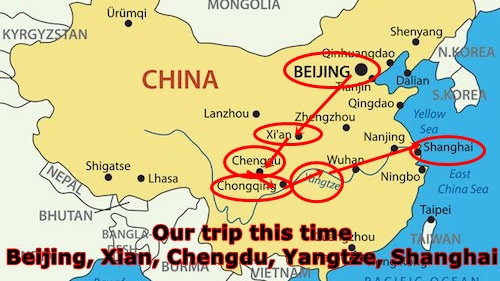 We had an opportunity for our first trip to China. Join us in China in four cities and a cruise.
This was not our usual type of holiday – but very interesting.
Our main aim was to tour some main cities – Beijing, Xi'an, Chengdu and Shanghai including a Yangtze River cruise. This enabled us to tick off a few bucket list items – Giant Pandas, Yangtze River 3 Gorges and the Terracotta Warriors.
The trip we organised through a travel agent in China (which we researched well beforehand) as we did not want to be part of an organised tour with lots of other people. Furthermore these are quite expensive and well beyond our price range. What we eventually organised was a private trip at our own pace, seeing the sites we wanted to see plus a few others. The trip included fares between all cities, hotels, all breakfasts plus 2 lunches and everything on the Three Gorges Cruise. We had a private car plus driver and English speaking guide, all at a cost less than half a group tour paid for from home.
The tour was organised by China Odyssey Tours http://www.chinaodysseytours.com
BEIJING ATTRACTIONS
3 days in Beijing with Sherrie and Chris
See – Tiananmen Square the Forbidden City and Temple of Heaven. The Great Wall (Mutianyu section), a Cloisonné Factory and the Sacred Road (a path lined with stone statues of animals, mystical beasts and officials who serve the emperor in his afterlife). We visit Beijing's Hutongs by rickshaw and have lunch in one of the local's homes. To finish we went to the Summer Palace which was an imperial summer resort of the Qing Dynasty. .
TERRACOTTA ARMY in Xi'an
Xi'an is a large city and capital of Shaanxi Province in central China. Once known as Chang'an (Eternal Peace), it marks the Silk Road's eastern end and was home to the Zhou, Qin, Han and Tang dynasties' ruling houses. At archaeological sites in Xi'an's surrounding plains are the famed Bingmayong (Terra Cotta Army), thousands of life-size, hand-molded figures buried with China's first emperor, Qin Shi Huang. Xi'an, One of the oldest cities in China, and was the capital under 13 dynasties and the starting point of the silk road.
See -Terracotta Warriors and Horses: discovered in 1974 by local farmers digging a well, one of the most significant archeological finds of the 20th century. 6,000 life-size painted terracotta warriors and horses. The Ancient City Walls: built during the 14th century. Bell Tower: standing in the center of the city and built in 1582.
Chengdu Panda
Chengdu is the capital of southwestern China's Sichuan province. Chengdu's history dates back to at least the 4th century B.C., when it served as capital for the Shu Kingdom. Artifacts from that dynasty are the focus of the Jinsha Site Museum. The city is also home to the famous Chengdu Research Base of Giant Panda Breeding, which was the main purpose of our visit, a conservation center where visitors can view endangered giant pandas in a natural habitat.
Plus a superfast train to Chongqing and the Yangtze river.
Yangtze River Cruise
Sail though the famous 'Three Gorges' on the Yangtze River, plus a side trip on the more exciting 'Shennong Stream' where we take a sampan along the steam flowing swiftly from north to south through deep gorges,steep ridges and peaks, thick vegetation and wild flowers, flying birds, plank road built along a cliff and ancient hanging coffins. We finish with a tour of the controversial 'Three Gorges Dam'
Famous Shanghai
See –Shanghai World Financial Center: one of the tallest skyscrapers in the world. You can get the cool feeling of having a bird's eye view of Shanghai by standing on 100th floor's glass overbridge. The famous European look of The Bund and Nanjing Road: Known as "China's No.1 Shopping Street" – mostly expensive imported brand names.
Art
Sherrie also enjoys producing some amazing digital photographic images that she uses both as artworks and as designs for a large variety of products.
This has earned her quite a large following, and are well worth a look.