Vietnam – a month in Hanoi. For this trip we decided on Hanoi, the capital of Vietnam, for several reasons.
The weather in winter is not too hot
Prices for food and accommodation are low
We got a good price on flights
We wanted to see in the Lunar New Year
Getting Visa's for Vietnam is done online and is easy
We chose the suburb of Ba Dinh to stay in as it is a little away from the overcrowding and noise of the Old Quarter where most tourists stay. It is also more residential and less touristy, meaning meals especially are often half the price of the Old Quarter (and that means really cheap – we rarely paid more than $2AUD a meal.
The area is also walking distance from many sights (we walk a lot) or a quick and easy ride with grab or on a bike.
The area has been Vietnam's political nucleus since the French occupation and was where Ho Chi Minh declared independence in 1945. There are many historic and important sights in and around Ba Dinh square, such as Ho Chi Minh's Soviet-styled mausoleum and his stilt house, the One Pillar Pagoda and Hanoi Flag Tower.
---
Fly Qantas with us to Vietnam – stuck in Hong Kong.  Vietnam – a month in Hanoi
Vietnam – a month in Hanoi. Join us on our 3 flight trip from Adelaide to Hanoi, including an unscheduled layover in Hong Kong, at the beginning of our trip to Hanoi for a one month stay in the Bah Dinh district of Hanoi.
---
Our home for a month – best host ever
Vietnam – a month in Hanoi. Have a look round our home for a one month stay in the Bah Dinh district of Hanoi. We stayed in a wonderful Airbnb "Furnished studio apt near Ba Dinh Square & Lotte".  Our hosts were the best we have had, absolutely amazing and went above and beyond to make sure our stay was enjoyable.
Nhung welcomed us when we arrived having helped arrange a car to meet us in the chaos of arrival in Vietnam at the beginning of Tet. She was happy to answer any questions during our stay, and indeed was an amazing host. She even invited us to join her family and others for many New Year celebrations.
The apartment exceeded expectations being clean, comfortable and exactly as described, our best holiday accommodation yet. It is situated in a quiet street by Hanoi standards, with a local market every morning in the alley and several shops and local eateries close by.
Located a short bike or Grab ride from the Old Quarter and Hoan Kiem, but also walkable in about 30-40 mins., it is in a brilliant location.
The wifi was fast with zero drops in our month there. There are two washers located on top of the building with lots of drying room. There is a nice roof garden for relaxing.
We could not have been happier with our stay and will definitely stay here again if we ever return to Hanoi. Thank you Nhung and your family for being amazing  hosts.
Link to our Airbnb in Hanoi – Furnished studio apt near Ba Dinh Square & Lotte https://www.airbnb.com.au/rooms/32225887
---
Thai Binh – visit traditional craftspeople
Vietnam – a month in Hanoi. On our first full day in Hanoi, our wonderful Airbnb host took a group of us in the apartments on a trip to Thai Binh. This was to meet their family for a pre Tet celebration lunch. We also got the opportunity to view traditional craftspeople at work in their area. They still work with their hands and simple tools including a 100 year old silk loom.
This was a true experience of small local craft enterprises in Thai Binh, unlike the many tour group shopping experiences.  We had an amazing day – a true experience of Vietnam.
---
A trip to the Botanic Gardens
Vietnam – a month in Hanoi. Like most cities, Hanoi is crowded and noisy. The Hanoi Botanical Garden, also known as Bach Thao Park, offers a peaceful escape from hectic city life. Originally created by the French in the late 19th century, the Vietnamese continued to maintain the park after they regained control of the country.
The park has many tall trees with tangled roots. As well as native species, there are also trees from Africa, Australia, and the Americas – many of which are labelled. A colony of white doves lives in dovecotes on an island in the centre of the park's pond. There are also peacocks and monkeys housed in small cages in the garden. Entry fee is a minimal 2,000 dong (approx. 15c).
---
Farm stay and Bánh chưng making
Vietnam – a month in Hanoi. Our amazing Airbnb host took a group of us in the apartments one hour out of Hanoi to spend the night at a family farm. Here we enjoyed a pre Tet party and joined in the traditional family task of making Bánh chưng, a popular Tet (lunar new year) food in Vietnam.
Legend has it that these cakes originated during the Hung Dynasty, over three thousand five hundred years ago ago, when a dying emperor had a cook-off to choose which of his 21 sons would inherit his throne. Most sought out rare and expensive ingredients, but one humble son made simple, tasty cakes that were made of what everyone could enjoy – Bánh chưng – made of rice, mung bean paste and pork wrapped in a banana leaf and boiled over a wood fire for 12 hours.
---
Market Day
Vietnam – a month in Hanoi. Today we walked the alleyways from our apartment in Bah Dinh to Đồng Xuân Market north of Hoàn Kiếm Lake in the old quarter. The original Đồng Xuân Market was built by the French administration in 1889. In 1994, the market was nearly destroyed by a disastrous fire. It was partially rebuilt in the original form and it is still the largest covered market in Hanoi. The area is also named Đồng Xuân and is one of the busiest commercial areas in Hanoi.
The area around here is chaotic and busy with all kinds of traders selling everything from hardware and all types of clothing to every imaginable type of foodstuff. Selling from inside large buildings and small shops to little footpath stands and heavily laden bicycles. If you are looking for souvenirs, some stalls on the ground floor of the main market can offer them at up to half the price of souvenir shops (with some bargaining).
Similar to most markets in Southeast Asia, Dong Xuan Market has a bustling wet market section on the ground floor at the rear. Here locals shop for seafood, meat, and vegetables while the back section sells an array of pets (cats, dogs, and fish) and fresh flowers from all across Vietnam.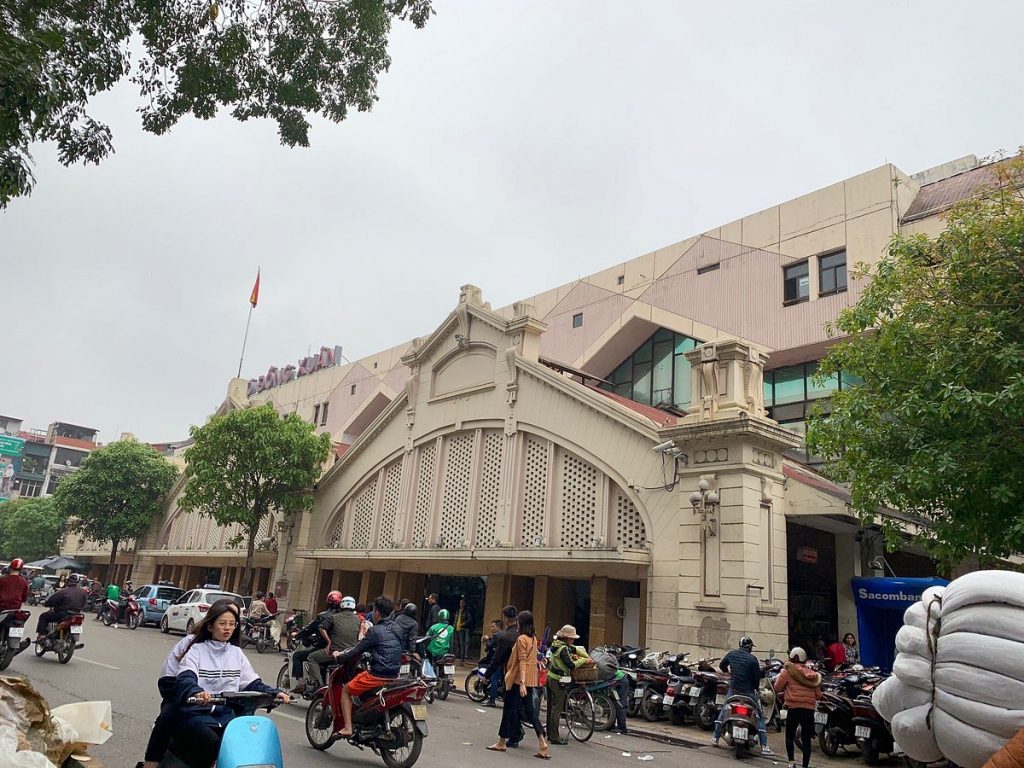 ---
B 52 BOMBER SHOT DOWN – a visit to the B-52 Victory Museum, Hanoi
Vietnam – a month in Hanoi. Today we went for a short walk a few blocks from our apartment to see the B52 Victory Museum.  A B-52 Stratofortress was shot down during the first evening of Operation Linebacker II, 18 December 1972, during the Vietnam or American war. Vietnam has erected a museum very near the crash site.
Most of the aircraft is in the grounds of the museum, along with a Russian Mig 21 Fighter Jet of the Vietnamese People's Air Force and many anti-aircraft guns etc.  Part of the aircraft still remains not far away in Huu Tiep Lake (often called B 52 Lake). We have included this in the video although we went there during a thunderstorm on a different day.
America and Vietnam have somewhat different opinions on the war and its outcome. The Americans seeing it as a war against communism (Vietnam is still a communist country), and Vietnam seeing it as a war of independence against invaders (first the French and then the Americans) for the Vietnamese people to rule themselves.
---
PARTY TIME – Tet, Lunar New Years Eve
Vietnam – a month in Hanoi. Vietnamese Lunar New Year or Tet Holiday, is the most important celebration in Vietnamese culture, as celebration of Lunar New Year.
The word is a shortened form of Tết Nguyên Đán, "Feast of the First Morning of the First Day".
Tet serves as an opportunity for Vietnamese people to pay homage to their ancestors and have family reunions.
Preparations usually begin a week before Tet, as people start to return home. They clean their family graves, worship at their family altars and decorate their homes with apricot blossoms, peach blossoms and kumquat trees. These symbolize the hope of prosperity and well-being.
Be aware that many businesses close during Tet and may stay closed for a few days. This includes most museums, tourist sights, and shops as well as many restaurants and street stalls. If you are traveling during this period it is a good idea to check opening times before venturing out to visit somewhere especially.
In the day we walked in the rain to West Lake just to sit in a lakeside cafe (one of the few places open). In the evening our wonderful Airbnb host gave a New Year's Eve party on the rooftop deck of the apartment building.
---
SHOPPING – and see the top of Hanoi as we visit the Lotte Center
Vietnam – a month in Hanoi. Today we headed to the Lotte Center Observation tower and Lotte supermarket – not much open the first few days after Tet.The Lotte Center Hanoi is a skyscraper in Ba Đình district. Completed on 2 September 2014, the tower has 65 floors and is the second tallest building in Hanoi.  In the building are included :
a basement car park for over 1,000 cars,
a basement Lotte Hypermarket,
a six floor Lotte Department Store,
offices from 8th to 31st floors,
a five star 318 room Lotte Hotel from 33rd to 64th floors on the right side, 
258 residences from 33rd to 64th floors on the left side,
restaurants and an observation deck on the 65th floor.
Entrance to the observation deck is by separate lift, and costs 230,000 dong (around $15.00AUD) for non-Vietnamese, 180,000 for Vietnamese citizens. The view from the top gives an uninterrupted panorama of Hanoi.
The department store is much the same as all department stores, and at similar prices for brand names as in other countries, with many well-known western and Korean brands on offer.
The Hypermarket carries quite a wide range of household goods and homewares as wells as foodstuffs both long life and frozen as well as fresh fruit, vegetables, bread, cakes, meat and fish (both fresh, frozen and alive). 
There is a very popular cooked food area where you can buy ready cooked meals and snacks to take away or eat there. These are cheap and very good value, with many good full meal options available for 30,000 to 45,000 dong ($2-$3 AUD).
It also has an extensive and budget priced liquor section carrying everything from wine and beer to a large range of spirits. There is a good range of both Korean and Vietnamese brands as well as western.
---
WATER PUPPETS – a few clips of the famous Thăng Long Water Puppets.
Vietnam – a month in Hanoi. Today we walked to the Old Quarter near Hoàn Kiếm Lake to see the famous Thăng Long Water Puppets.
Water puppetry is a tradition that dates back as far as the 11th century originating in the villages of the Red River Delta area of northern Vietnam. The puppets are made out of lacquered wood. The tradition of water puppet theatre stems from a time when rice paddy fields were flooded and villagers would make entertainment by standing in the waist-deep water with the puppets performing over the water.
Using large rods to support the puppets it appeared as if they were moving across the water with the puppeteers hidden behind a screen. The Thang Long Water Puppet Theatre was founded in 1969 and is one of the few traditional theatres still in operation. Its wooden, lacquered puppets are world-famous. Since 1990 the theatre has regularly travelled internationally and has appeared at art festivals all over the world.
---
HO CHI MINH – visit the site of Ho Chi Minh's Mausoleum and museum.
Vietnam – a month in Hanoi. Today we visited the site of Ho-Chi-Minh's Mausoleum and the Ho-Chi-Minh museum.
Ho Chi Minh Mausoleum in Ba Dinh Sqaure is the final resting place of Ho Chi Minh, the most iconic leader of Vietnam. He is known to his people as 'Uncle Ho'. His body is preserved here in a glass case (against his wishes). Started in 1973, the construction of the mausoleum was inspired by Lenin's mausoleum in Russia and was first open to the public in 1975.
Security is tight and visitors must dress with respect (no shorts, sleeveless shirts and miniskirts) and everyone has to deposit their bags and cameras before getting in. Visitors are not allowed to stop as the queue is constant.
Opening hours are generally 7.30am to 10.30am (closed Friday & Monday), but best to check as can be closed at other times too. Entry is free.
Ho Chi Minh Museum  
is conveniently located in the Ho Chi Minh complex in Ba Dinh Square. The whole museum is a description of Ho Chi Minh's life, with 8 chronological topics.
The first one, from 1890 to 1910 modelled after his upbringing, hometown and youth.
The second topic concerns the next ten years where Ho Chi Minh travelled the world to find out a way to rescue the country from colonialism.
The next three topics, covering 1920-1945, depict how Ho Chi Minh had translated the influence of Marxism and Leninism into founding Vietnamese Communist party and striving for national independence.
Exhibits 6-7 cover Ho Chi Minh's life from 1945 until his death in 1969.
The final grouping of exhibits primarily focus on his status as a national hero and the finer details of his political life.  The museum is a collection of artifacts, miniatures and various gifts gathered nationally and internationally. There are also descriptions written in English and French, as well as guided tours on request.
Opening hours are 8:00 to 12:00 and 14:00 to 16:30 – entry fee 40,000 VND ($2.60 AUD)
---
CHURCH, WAR and STREET FOOD – St. Joseph's Cathedral, the Hanoi Citadel & street food.
Vietnam – a month in Hanoi. First we took a quick look at St. Joseph's Catholic Cathedral in Hoan Kiem district. It is one of the first structures built by the French colonial government in Indochina, with an architectural style resembling Notre Dame de Paris.
It is the oldest church in Hanoi. It was built on the site of a sacred Buddhist temple that served as an "administrative center" of Tonkin during the pre-French colonial era. In order to facilitate the construction of the church, the ruins of the pagoda were cleared. The cathedral was consecrated on December 24, 1886.
After the Viet Minh took control of North Vietnam following the Geneva Accords in 1954, the Catholic Church suffered for decades. St. Joseph's Cathedral was closed down until Christmas Eve of 1990, when Mass was permitted again.
Hanoi Citadel
Next we walked on to the Hanoi Citadel. The citadel has been at the centre of military affairs in the capital for more than 1300 years, and it was from here that North Vietnam's military commanders plotted their successful campaign against US backed, South Vietnamese forces.
Up until 2009, Hanoi's historic citadel, also known as The Imperial Citadel of Thăng Long (Dragon Citadel), was part of an operating military base and was off limits to visitors. Preparations for Hanoi's 1000 year anniversary in 2010 saw the most historically important areas opened to the public. Hanoi Citadel was listed as a UNESCO World Heritage site in 2010 on account of its role as a centre of military power over 13 centuries.
The royal enclosure was first built during the Lý dynasty (1010). It remained the seat of the Vietnamese court until 1810, when the Nguyễn dynasty chose to move the capital to Huế.
The ruins roughly coincide with the Hanoi Citadel today. The royal palaces and most of the structures in Thăng Long were in varying states of disrepair by the late 19th century with the upheaval of the French conquest of Hanoi. By the 20th century many of the remaining structures were torn down. Only in the 21st century are the ruin foundations of Thăng Long Imperial City systematically excavated.
In mid-1945 the Citadel was used by the Imperial Japanese Army to imprison over 4000 French colonial soldiers captured during the Japanese coup d'état in French Indochina in March 1945. The central sector of the imperial citadel was listed in UNESCO's World Heritage Site on July 31, 2010 at its session in Brazil, as "The Central Sector of the Imperial Citadel of Thăng Long – Hanoi"
Admission fee for foreigners, 30,000VND or $2.00AUD.
On our way home we stopped for street food on Đội Cấn near our apartment where we had Bánh Tráng Nướng, which is a popular street food (often called Vietnamese Pizza). Made from rice paper (banh trang) that is grilled on a barbecue with beaten egg on top with various added toppings.
---
HEROIC MOTHERS OF VIETNAM – Vietnamese Women's Museum
Vietnam – a month in Hanoi. The stated mission of the museum is "to enhance public knowledge and understanding of history and cultural heritage of Vietnamese women… thus contributing to promoting gender equality".
In 2008 almost 50,000 women, some posthumously, received the title of 'Heroic Mother of Vietnam' to recognise their part in the battle for the reunification of the country.
At age 60, artist Dang Ai Viet traversed 63 provinces in Vietnam on her Chaly scooter to create portraits of around 1500 Vietnamese heroic mothers.
The Vietnam Women's Museum delivers a well presented tribute to the women of Vietnam across the ages. There are plenty of historical contexts alongside a wealth of information on today's more modern Vietnamese woman.
The museum is run by The Women's Union of Vietnam which is recognised as one of the country's most powerful movements.
It features displays across five floors delivered over three sections – women in family, women in history and women's fashions. There are more than 1,000 artefacts on display depicting the many faces and changing roles of Vietnamese women.
The Women in History section showcases: Vietnamese women from 1930-1954, Southern and then Northern Women from 1954-1975, Unification, Vietnam's Heroic Mothers and Portraits of Contemporary Women.
Admission fee 30,000VND or $2.00AUD.
---
IN PRISON – Hỏa Lò Prison – the HANOI HILTON
Vietnam – a month in Hanoi. The prison was built in Hanoi by the French from 1886 to 1901, The French called the prison Maison Centrale. It was near the French Quarter and was intended to hold Vietnamese prisoners, particularly political prisoners agitating for independence who were often subject to torture and execution (you can see the guillotine).
Built for up to 600 inmates it was often overcrowded and by 1954 it held more than 2000 people, with its inmates held in subhuman conditions. It had become a symbol of colonialist exploitation and of the bitterness of the Vietnamese towards the French.
Following the defeat at the Battle of Dien Bien Phu and the 1954 Geneva Accords, the French left Hanoi and the prison came under the authority of the Democratic Republic of Vietnam. From then the prison served as an education centre for revolutionary doctrine and activity.
During the Vietnam War (American War), U.S. prisoners were sent to Hỏa Lò  and there POWs endured miserable conditions, including poor food and unsanitary conditions.
The prison complex was sarcastically nicknamed the "Hanoi Hilton", in reference to the well-known Hilton Hotel chain. The Hỏa Lò was one site used by the North Vietnamese Army to house, torture and interrogate captured servicemen, mostly American pilots shot down during bombing raids.
The North Vietnamese maintained that their prisons were no worse than prisons for POWs and political prisoners in South Vietnam. Mistreatment of Viet Cong and North Vietnamese prisoners and South Vietnamese dissidents in South Vietnam's prisons was indeed frequent, as was North Vietnamese abuse of South Vietnamese prisoners and their own dissidents.
Admission fee 30,000VND or $2.00AUD.
---
HANOI TRAIN STREET – CLOSED – Or is it really??
Vietnam – a month in Hanoi. Much has been posted online about the closure of Hanoi's famous train street in 2019.  Here are the facts in February 2020.
The famous single-track railway that runs through Hanoi's Old Quarter. It was built over 100 years ago during French colonial rule of Vietnam.  The houses that now stand amazingly close to the tracks were built afterwards. It is quite a sight to see.  The area became more and more popular over the years watching the trains pass at some speed very close to you whilst sitting in a café.  Unfortunately the rise of irresponsible and dangerous attitudes (mainly by instagrammers) led to several near misses. As a result the Government closed all sections of the street to tourists in October 2019.
HOWEVER
Train street is a must see on your stay in Hanoi, and how you do so is a slight matter of pot luck nowadays. You can't just walk in anymore, as the street is blocked off with barricades and guard boxes and police won't let you through. They do, however, seem stricter with this when trains are around – as for example during the day on weekdays when no trains come, it was fairly easy to get in, whereas night time the police are very strict.
BUT – if you stand near a blocked off section, one of the Cafe owners will usually come to you and invite you in to their Cafe, then you can go through. It doesn't really matter which you go to, they all look nice and the prices are all reasonable. So have a beer or tea or coffee and a snack and enjoy the experience.  It is a good idea to arrive 30 minutes or so before a train is due to get settled, people watch etc. Check the train times when you are in Hanoi, as timetables are different on weekdays to weekends. Trains also often run a bit late.
---
CONFUCIUS SAYS! A visit to the amazing Temple of Literature
Vietnam – a month in Hanoi. Join us today as we walk through the hustle and bustle of Hanoi's streets to the beautiful and peaceful Temple of Literature. Followed by a visit to the Museum of Fine Arts.
The temple was built as a university in 1070 dedicated to Confucius, scholars and sages. The building is extremely well preserved with restorations taking place in 1920, 1954 and 2000, and it is a superb example of traditional-style Vietnamese architecture.
This ancient site is one of Hanoi's most picturesque locations. It contains a lake of literature, the Well of Heavenly Clarity, turtle steles, pavilions, courtyards and passageways that were once used by royalty. It has seen thousands of doctors' graduate in what has now become a memorial to education and literature.
Originally the university only accepted aristocrats, the elite and royal family members as students. Eventually it opened its doors to brighter 'commoners'. Successful graduates had their names engraved on a stone stele which can be found on top of the stone turtles.
Entrance Fee 30,00VND – $2.00 AUD
Vietnam Fine Arts Museum
Vietnam – a month in Hanoi. Just across the street we went to the Vietnam Fine Arts Museum. It was built in the 1930s as a Girls School for high-ranked officers. In 1966, it officially became Vietnam Fine Arts Museum.
The museum displays not only paintings, ceramics and lacquers created by modern Post-war artists but many of its contents date back as far as pre-historic and feudalism time.
Unfortunately, many of the art works found here apparently are replicas, as the originals were destroyed during Viet Nam war. It is worth heading here after you have visited the Temple of Literature.
Entrance Fee 40,00VND – $2.30 AUD
---
CLIMBING PERCH FISH NOODLE SOUP – PLUS NGOC SON TEMPLE
Vietnam – a month in Hanoi. After walking to the Old Quarter we stopped at a little restaurant selling Bún Cá Rô Dồng – Climbing Perch Fish Noodle Soup. This is a dish which we had been waiting to try. The eye-catching yellow signs make the restaurant easily visible on the corner of a junction between Nguyen Sieu and Hang Giay streets. Cost each was 35,000VND ($2.30AUD). Apparently this restaurant is quite new and the meal was delightful.
From here we walked to Hoàn Kiếm Lake to see the Ngoc Son Temple (Temple of the Jade Mountain). This was so crowded when we first came during the Tet holiday that we didn't bother with the extremely long queue and crowds.
Ngoc Son Temple is located on Jade Island at the Northern end of Hoàn Kiếm Lake. It is entered via a beautiful red painted bridge. The temple attracts many visitors and was built predominantly to commemorate the 13th century military leader Tran Hung Dao. He was renowned for his bravery in the battle against the Yuan Dynasty. It was built in the mid 1800's. Also inside the pagoda are a large bronze bust and other deities. There are altars dedicated to Tran Hung Dao, some ancient artefacts including ceramics and a preserved specimen of a giant turtle found in the lake weighing 250kg.
Entrance to Ngoc Son Temple 30,000VND $2AUD
On our walk home we went down Phan Dinh Phung street. This street is considered one of the most beautiful streets in Hanoi. It is a wide and tree lined street brimming with French Colonial mansions, with wide footpaths and many cafes. The walls surrounding Phan Dinh Phung high school on Phan Dinh Phung street have 20 frescoes reflecting old time Hanoi.
---
SNAKE WINE, FOOD AND FUN – Lan Ha Bay / Cat Ba Island overnight Cruise
Vietnam – a month in Hanoi. In this video we go on a 2 day 1 night cruise trip on Lan Ha Bay.
Lan Ha Bay sits to the East of Cat Ba Island and adjacent to Ha Long Bay. This is a tranquil and less touristy area with around 400 big and small islands. When most people think of Vietnam they picture the iconic Halong Bay. However, the problem with Halong Bay? It's on everybody's bucket list. This means that it gets really crowded, to say the least! A great alternative to Ha Long Bay is Lan Ha Bay, it's no less stunning and it's right next door. The thing is – it's far less crowded, and the huge tour boats don't go there.
We took the Sunlight Cruises Classic tour on a boat with 8 cabins – with a mixed group of couples from Canada, Germany, Italy, Australia (us) and a French single.
The boat was older style, but comfortable and the food served on board was fantastic. Activities were good and we were fortunate with the weather (being winter) with just a light shower or two on the first day.
We cruised and kayaked through the floating fishing villages, cycled in Cat Ba National park, saw a traditional farm and sampled home made snake wine (quite fiery, not unpleasant but with a mild overtone of mud!!).
Below is the itinerary from their brochure:
08h-8h30 Pick-up at hotels if located in the Hanoi Old Quarter by shuttle bus departing to Lan Ha Bay with stopovers for refreshing en route.
12.30 Arrive Beo Harbour, transfer by tender to Sunlight Cruise, and enjoy welcome drinks, receive cruise briefing, safety instructions then check in to your cabin
13.00 A special lunch in Vietnamese cuisine of fresh seafood and an assortment of appetizing favorites are served while sailing through these islands
14.30 The Cruise sails through Lan Ha Bay and completes its entry through Cua Van Area. The area is surrounding of extraordinary karst landscape landscapes. Explore the bay by kayak
16:30 Enjoy Swimming in nearby area, you can freezing jumping or diving from the top of the boat in to water.
18:00 Come back to cruise later to enjoy sun set party and cooking class with fresh spring roll, Enjoy the complimentary sunset party on the sundeck with local wine and fresh fruits on sundeck.
19:00 Dinner is served in the restaurant. Enjoy delicious local food prepared and served for you by our wonderful onboard catering staff.
20:00 Join the fishing excursion or singing karaoke, have a drink or dancing at the bar, .Overnight on board
DAY 2 LAN HA BAY – BIKING VIET HAI VILLAGE – HANOI ( B/L). Viet Hai is a small village in the midst of jungles, covered by high mountains range of the Cat Ba National Park.
06.00 Waking up enjoying beautiful moments when a blazing sunrise breaks the clouds of the island on the bay (accept winter time have no sunrise)
07.00 Your breakfast will be ready in quite bay.
08:00 Start riding bicycle 5 km to Viet Hai Village , Viet Hai is a small village in the midst of jungles, covered by high mountains range of the Cat Ba National Park.
9h:30 Riding back to our boat have shower then before checking out
11:00 Lunch is serve on boat, have good meal
12:00 Disembark at to Beo Harbor . Get on the bus back to Hanoi, say goodbye Amazing Cat Ba Island 16:30 Back to Hanoi. Tour guide will drop you back at your hotel
---
DO NOT CROSS THE YELLOW LINE – Ho Chi Minh's Stilt House & One Pillar Pagoda
Vietnam – a month in Hanoi. Today, on our second visit to this complex, we viewed Ho Chi Minh's Stilt House and the One Pillar Pagoda.
President Ho Chi Minh's Stilt House was the living and working place of one of the most famous and important political characters in Vietnam's history. President Ho Chi Minh, aka Uncle Ho. It is located in the peaceful garden surrounds of the Presidential Palace in the complex that houses not only these sights but the Ho Chi Minh Mausoleum, the One Pillar Pagoda and the Ho Chi Minh Museum a must-visit place for tourists upon visiting Hanoi. 
After the Vietnamese war against the French had ended in 1954, the President came back to Ha Noi. At that time, he refused to live in the luxurious Presidential Palace. President Ho Chi Minh told his comrades that he wanted to build a stilt house on the other side of the pond to live and work. The designer of the stilt house was architect Nguyen Van Ninh. At that time, he was Deputy Director of Architectural Design Department of Ministry of Transport and Irrigation. 
After the design was completed, on April 15, 1958, building of the stilt house commenced, which took about a month. On May 19, 1958, the President moved into this house and lived here until August 17, 1969.
On May 15, 1975, Ho Chi Minh's stilt house was ranked as a special national cultural and historical monument.
Over four decades since his death, the stilt house at the Presidential Palace has apparently welcomed more than 50 million visitors both from Vietnam and more than 150 countries worldwide.
Entry Fee 40,000VND
We then went to the One Pillar Pagoda
Rising from one pillar in the centre of an elegantly square shaped lotus pond. The One Pillar Pagoda is said to represent a lotus flower growing up out of the water. Built between the years of 1028 and1054 during the reign of Emperor Ly Thai Tong of the Ly Dynasty, the One Pillar Pagoda is one of Vietnam's most iconic temples. The little temple is constructed from wood based on a single stone pillar crafted into the shape of a lotus blossom. It has been rebuilt several times, most recently in 1955 when the base was destroyed during the French evacuation.
The pagoda is often used as a symbol for Hanoi and remains one of the city's most revered sights. Set in a beautifully tranquil garden setting with benches provided for comfortable contemplation. The shrine inside the pagoda is dedicated to the Vietnamese Buddhist deity Quan Am with her effigy nestled inside the tiny three square metres temple.
On our way home we paid another visit to the outside of the Mausoleum, where visitors who attempt to cross the yellow line are firmly reprimanded by the guards on duty.
---
WALKING THE BRIDGE – a walk across Long Bien Bridge & Hanoi Ceramic Road
Vietnam – a month in Hanoi.
Long Biên Bridge
is a historic cantilever bridge across the Red River in Hanoi, Vietnam. The bridge was built in 1899-1902 and opened in 1903. Before North Vietnam's independence in 1954, it was called Paul-Doumer Bridge, named after Paul Doumer – The Governor-General of French Indochina and then French president. At 2.4 kilometres in length, it was, at that time, one of the longest bridges in Asia. For the French colonial government, the construction was of strategic importance in securing control of northern Vietnam. From 1899 to 1902, more than 3,000 Vietnamese took part in the construction.
It was heavily bombarded during Vietnam (American) War. This was due to its critical position, as it was the only bridge at that time across the Red River connecting Hanoi to the main port of Haiphong. Some parts of the original structure remain intact, while large sections have been built later to repair the holes. Only half of the bridge retains its original shape. A project with support and loan from the French government is currently in progress to restore the bridge to its original appearance.
Today trains, mopeds, bicycles and pedestrians use the dilapidated bridge (oddly enough using the left hand side), while all other traffic is diverted to the five other bridges that now cross the river.
Under the bridge, poor families live in boats on the Red River, coming from many rural areas of Vietnam.
Hanoi Ceramic Mosaic Mural, or Hanoi Ceramic Road is a ceramic mosaic mural along the walls of the Red River dike system in Hanoi.
With a length of about 6.5 kilometres (4.0 mi), the 'Ceramic Road' is one of the major projects that were developed on the occasion of the Millennial Anniversary of Hanoi in 2010.  The Hanoi Ceramic Road originated with the journalist Nguyễn Thu Thủy. She won a prize in the Hanoi architecture contest for her idea of transforming the dike system around Hanoi into a ceramic mosaic. The work began in 2007
The mosaic wall mural is made from ceramic tesserae which are product of Bát Tràng, a nearby village famous for its porcelain. It has won a Guinness World Record as the world's largest ceramic mosaic. Chilean artist Alexandro Mono Gonzalez completed a new segment of the Mural on 18 September 2017. Another segment about Sri Lanka was sponsored by the Sri Lankan Embassy and completed on 22 January 2019. A newly built segment of the concrete dike is expected to have murals on it as well, as the 900-meter-long stretch is currently left plain and attacked by graffiti.
---
Vietnam Museum of Ethnology history of the 54 ethnic groups that compose Vietnam
Vietnam – a month in Hanoi. Today we walked to the Vietnam Museum of Ethnology. Along the way we had to cross the To Lich river which is heavily polluted. Over 200 sewage outlets empty 150,000 cubic meters of untreated household wastewater every day into it, according to the city Department of Natural Resources and Environment. Wastewater from factories adds to the pollution. The river runs 14 kilometers (8.7 miles) through the downtown districts of Thanh Xuan, Hoang Mai and Thanh Tri. It has become infamous for its stench and black water. Many attempts to clean it have failed but starting in 2020 a 4 year project is planned. This is to build a sewer system of 13 kilometres under the river bed to collect and send wastewater to a treatment plant in Yen Xa in Thanh Tri District.
Museum of Ethology.
Vietnam is a multi-ethnic country, which is composed of 54 ethnic groups. With a view to preserving and presenting the cultural heritages of these ethnic groups, the Vietnamese Government decided to establish a museum of ethnology in Hanoi. Hence, the today's Vietnam Museum of Ethnology was constructed on the land of 9,500 square meters, around 8 kilometers from the city centre. The construction started at the end of 1987 and was completed in 1997.
The indoor permanent collection occupies the majority of the exhibition space. However, there is a separate area for the temporary exhibits. The permanent collection is divided into 9 main sections, each of which includes objects displayed in glass cases and dioramas:
Introduction
Introduction of the Viet group (Kinh)
Introduction of Muong, Tho, Chut ethnic groups
The ethnic groups belonging to the Tay, Thai, and Ka Dai group
The ethnic groups belonging to the H'Mong-Dao group, Tang Group, and San Diu, Ngai ethnic groups
The ethnic groups belonging to the Mon-Khmer group
The ethnic groups belonging to the Nam Dao
The ethnic groups of Cham, Hoa, Khmer
The exchange and mingle among different ethnic groups
Virtual Outdoor Tour
An open-air exhibition in the museum's spacious and peaceful ground features ethnic houses from all over Vietnam.
The outdoor exhibition area is only large enough for the most popular architectural styles to be presented. Already presented are
the Ede long house,
the Tay stilt house,
the Yao house half on stilts and half on earth,
the Hmong house whose roof is made of pomu wood,
the Viet house with tile roof, etc.
Between the houses, there are trees indigenous to the area of each house, zigzagging paths and a meandering stream crossed by small bridges. The outdoor museum is of much captivation to most tourists not only for the cultural values but also for a natural landscape. Some even said: "Walking around here makes me feel like I were in a beautiful park, very relaxing!"
With more than fifty ethnic minorities with different and colorful culture, Vietnam Ethnology Museum is the perfect place to learn more about the diversity in ethnic communities of Vietnam. This destination is typically included in any Hanoi culture tours or city day tours offered by travel agencies.
· Opening Hours: From 08:30 – 17:30, closed on Mondays
· Location: On Nguyen Van Huyen Street in the Cau Giay district of Hanoi about 8km away from the centre of town
· Remarks: The museum also has wheelchair access with ramps throughout and an elevator for access to the second floor
Entrance Fee
Photography fee: 50,000VND
---
HANOI STREET FOOD, STREET SCENES, SHOPPING & JOHN McCAIN,
Vietnam – a month in Hanoi. First we visit the John McCain Monument  at 7 Đ. Thanh Niên, Trúc Bạch, Ba Đình, Hà Nội, Vietnam
On the shores of a still and peaceful lake on the edge of downtown Hanoi, the inscription on a faded monument reads "On Oct 26, 1967, at Truc Bach Lake, the military and people of Hanoi arrested Major John Sidney McCain, a pilot of the American Navy's air force," The carving depicts an airman with his hands above his head in front of a broken plane wing. McCain was dragged out of Truc Bach lake and spent the next five-and-a-half years as a high-profile prisoner of war in Hoa Lo prison – the infamous "Hanoi Hilton' – where he said he and others were tortured. Vietnam maintains the American prisoners were treated well.
A statue marking the spot by the lake was erected in 1967. The monument is easy to miss – the tree-lined street it stands on is now a popular tourist destination, dotted with cafes, ice cream parlors and vendors selling cotton candy from the back of bicycles.
During the Vietnam War, McCain almost died in the 1967 USS Forrestal fire. While on a bombing mission during Operation Rolling Thunder over Hanoi in October 1967, he was shot down, seriously injured, and captured by the North Vietnamese. McCain was a prisoner of war until 1973. He said he experienced episodes of torture and refused an out-of-sequence early release. During the war, McCain sustained wounds that left him with lifelong physical disabilities. He retired from the Navy as a captain in 1981 and moved to Arizona, where he entered politics.
Next we have a look at some of the foods we tried during our month in Hanoi
Lotte Center – basement Hypermarket has ready cooked meals and snacks to eat in or take away at excellent value and tasty meals with large choice most days. Be prepared for being crowded at lunch time – full meals average around 30,000-45,000vnd – $2.00-$2.50aud
Bánh mì trứng – (Bánh mì with egg) in the old quarter 30,000 vnd each ($2.00aud) – not the best or cheapest – can cost as little as 15,000-25,000. Bánh mì (Vietnamese baguette) is a popular food and available all over Vietnam although originally starting in the south. It is a cheap and (usually) tasty filled roll almost as well known in the world as Phở.
Bún Cá Rô Dồng – Climbing Perch Fish Noodle Soup, The eye-catching yellow signs make the restaurant easily visible at 56A Nguyen Sieu in the Old Quarter. Cost each was 35,000vnd ($2.30aud). Apparently this restaurant is quite new and the meal was delightful.
Bánh Tráng Nướng, which is a popular street food (often called Vietnamese Pizza). Made from rice paper (banh trang) that is grilled on a barbecue with beaten egg on top with various added toppings. 25,000vnd each ($1.50aud) at 111 Đội Cấn, Ba Đình near our apartment.
Bún riêu tóp mỡ – crab noodle soup 40,000vnd each – $2.50aud, at Bún riêu tóp mỡ, 15C Hàng Cót, Hàng Mã, Hoàn Kiếm, Hà Nội, Vietnam
Nem lụiis grilled ground pork on a lemongrass skewer which comes with vegetables, Vietnamese herbs and rice paper wrapper which you make like a spring roll along with a dip. Bánh xèo is a crispy, stuffed rice pancake. We had 5 Nem lụi and 2 Bánh xèo and 2 beers for 69,000vnd – $4.20 – at Gia Dinh Quan Ngon, 153A Đội Cấn, Ba Dinh near our apartment
Paris Baguette West Lake – 28 Đ. Thanh Niên, Yên Phụ, Tây Hồ, Hà Nội 124754, Vietnam
Phở Gà – which was a favourite of ours, although often local street stalls seem to have better flavours than fancier places or in high tourist areas. This is especially so the old quarter where stalls/shops are often more expensive and less tasty than ones a little way off the main tourist streets. Phở is a Vietnamese soup consisting of broth, rice noodles (bánh phở), herbs, and meat (usually beef) (phở bò), sometimes chicken (phở gà). Pho is a popular food in Vietnam where it is served in households, street stalls and restaurants countrywide. Pho is considered Vietnam's national dish
We finish up with a few street scenes and some traditional shopping sights.
---
DRAGON AIR – HANOI TO HONG KONG AND QANTAS HOME
Vietnam – a month in Hanoi. Today on a foggy day we leave Hanoi to fly home via Hong Kong. Covid 19 has become a thing in the world, but has not yet been declared a pandemic.
A week prior to our departure the Vietnamese government had banned all flights to and from China, including Hong Kong, which left us worried as to how we were going to get home. However 2 days before we were due to leave, they allowed flights to Hong Kong. In the meantime Australia had also banned all flights from China and stopped entry to Australia for all but returning citizens.
Flights
The Dragon Air plane to Hong Kong was full, but we had an uneventful flight. In Hong Kong, apart from normal security checks, all passengers had temperature checks on disembarkation. We had a few hours to wait for our flight home on a Qantas 380 Airbus, so went to the food court which was almost deserted. Flight boards in the airport showed probably 20% of scheduled flights had by now been cancelled due to travel bans in various countries and people becoming more wary of this ever spreading virus.
Our trip home was good, as always with Qantas, and the plane was also only about half full. Arrival in Sydney was a little worrying as several passengers had complained of feeling unwell and we had to wait for them to be checked by health authorities before being allowed to disembark. All was well in the end, and after about an hour wait on the plane we were allowed off. All arrivals were temperature checked and interviewed by federal police as to their travel history before collecting their baggage and passing to immigration. The delays meant we almost missed our flight home to Adelaide.
Covid 19
Since then we have been very lucky to live in South Australia where, as at the date of publication, our Covid 19 cases are almost zero, and most only from travellers returning from overseas or interstate who have been in compulsory quarantine ,with no community transmission for some time.  Our state borders have been effectively closed to non-essential travellers for some months, whilst essential travellers where they have been allowed to enter, must undergo compulsory policed hotel quarantine. We are lucky to experience greater freedom of movement than many other places.  Australia is still closed to incoming and outgoing international travellers except returning citizens, who undergo mandatory policed quarantine on arrival.
Let us hope that life returns to some normality for the world soon.
---
Links to other trips
China – a month in Kunming – City of eternal spring