Fly with us to incredible India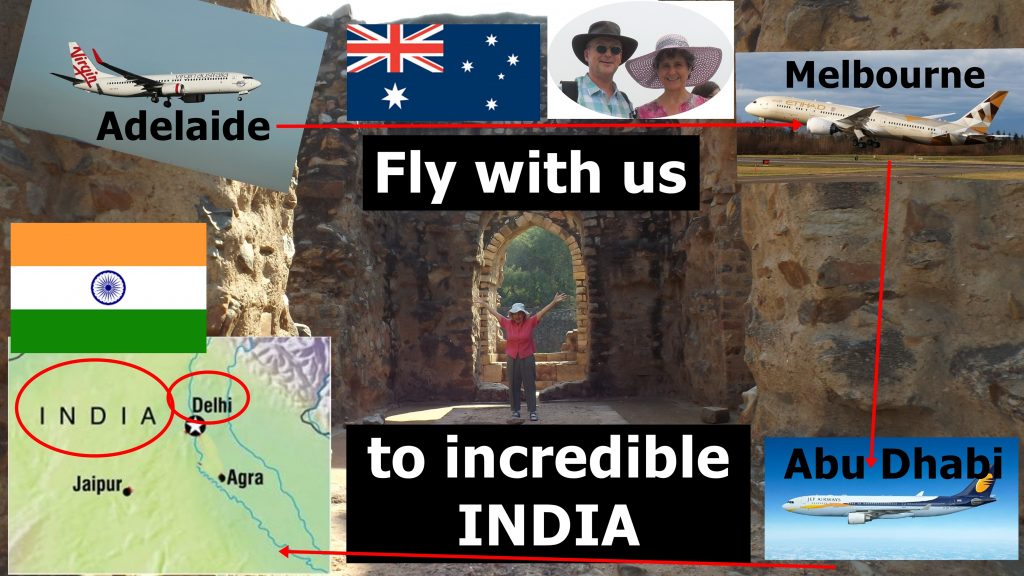 On this page we hope you will join us in the story that was the result of our four weeks holiday in New Delhi, India where we enjoyed a stay in an Airbnb in Lajpat Nagar, which is a well placed suburb in New Delhi.
The reason we picked this area for our holiday in Delhi
Firstly it is close to the well known Lajpat Nagar Central Market where just about everything can be bought. Secondly there are also many 'supermarkets' and street stalls nearby for your daily shopping. Thirdly but perhaps more importantly two Metro stations on two different lines are nearby as well as a train station.
Where did we go?
As a result we chose this area of Delhi as our base for our holiday in Delhi and took side trips to Agra and the Taj Mahal as well as Jaipur in order to see more of the country. Moreover we share with you our flights, the sights we saw and the prices we paid. In conclusion we flew home via Abu Dhabi in the United Arab Emirates as a result of getting cheap flights so in addition we can share with you our tour of Abu Dhabi. After that we headed home to Australia.
In conclusion we hope you will find some of our insights helpful if you are planning a holiday in Delhi and India yourselves.
Join us on our three flights (two good, one not so good) to incredible India via Abu Dhabi, and then experience a taxi ride through New Delhi from the airport across to the other side of New Delhi in Lajpat Nagar and get a brief look at where our Airbnb is for the next four weeks in Delhi.
---
CHECK OUT OUR APARTMENT IN SUBURBAN DELHI – see our Delhi local area.
Sherrie and Chris in Delhi India. Join us on a tour of our under $30 a night 2 bedroom apartment in suburban Delhi. See the local Delhi area where we stayed and the shopping in suburban Delhi where we shopped for food. PLUS meet a few of the local wildlife.
---
SCAMMED IN NEW DELHI – Connaught Place

See how we almost got scammed on our way to the tourist bureau in New Delhi. The scammer missed out. Then we went over New Delhi Railway station to Paharganj main bazaar and had Masala Dosa for lunch
---
HUMAYUN'S TOMB – Beauty and serenity

Come on a rickshaw ride and visit to Humayun's Tomb.
Humayun's tomb is the tomb of the Mughal Emperor Humayun in Delhi, India. The tomb was commissioned by Humayun's first wife and chief consort, Empress Begg Begum in 1569-70. It was the first garden-tomb on the Indian Subcontinent. It was the first structure to use red sandstone at such a scale. The tomb was declared a UNESCO World Heritage Site in 1993, and since then has undergone extensive restoration. It is a place of beauty and serenity in the mad hustle and bustle of New Delhi
---
JAMA MASJID CHANDNI CHOWK OLD DELHI Street food Islam and chaos!
In this episode we negotiate the chaotic lanes of Old Delhi to go to Jama Masjid, the second largest mosque in India – opened in 1656, it is a fine example of Mughal architecture and the courtyard can accommodate 25,000 worshippers. From here we continued through the laneways to Chandni Chowk and sample some Indian street food.
---
KAROL BAGH – Markets and a Hindu wedding parade
In this episode we head for Karol Bagh to have a look at the markets there, and get a Hindu wedding parade to add to our day.
---
REPUBLIC DAY – Join us for a few snippets of the 2019 Republic Day Parade
Republic Day honours the date on which the Constitution of India came into effect on 26 January 1950.
In this episode we look at a few snippets of the 2019 Republic Day Parade in Delhi.
---
3 MARKETS IN ONE VIDEO Lajpat Nagar Central Market, Dilli Haat Market, Sarojini Nagar Market
Come on video trip to 3 markets in one video – Lajpat Nagar Central Market, Dilli Haat Market and Sarojini Nagar Market (where we get crushed in the crowd)
---
QUTUB MINAR Come back over 1000 years on Qutub Minar Delhi tour
In this episode we travel back in history to visit Qutub Minar. Qutub Minar is a soaring, 73 m-high minaret built in 1193 and is surrounded by several historically significant monuments of the Qutb complex including the Qutub Minar iron pillar. This was forged 1,600 years ago (sometime in the 300s) and moved to Delhi before the mosque was built. It is 23 feet 8 inches high (7.2 metres) with 16 inches diameter. It is famous for the rust-resistant composition of the metals used in its construction.
---
OUR FIRST TRAIN IN INDIA – Gatimaan Express Delhi to Agra
Enjoy our first train ride in India on the Gatimaan Express from Delhi to Agra in an AC Chair car with nice meal and interesting views on the way.
---
TAJ MAHAL & AGRA FORT – Is the Taj Mahal worth the trip?
Is the Taj Mahal worth the trip? A site that is on most people's must see list when they go to India, but is it the best piece of architecture to see in India? We are not sure, what do you think? Today we see the Taj Mahal and Agra fort and feed some squirrels.
---
DISCOVER THE SECRETS OF THE STREETS OF AGRA – Camels, carpets and horses
Enjoy a tuktuk ride round the streets of Agra, seeing horse carts, camels, carpets and lots of honking traffic before we head home back to Delhi on the Gatimaan Express.
---
TRAVEL INSIDE A DOUBLE DECKER TRAIN IN INDIA plus the Krishna Palace
In this video travel with us on the double decker Sarai-Rohilla Delhi to Jaipur train and enjoy a tour of the surprisingly cheap and comfortable Krishna Palace hotel in Jaipur. We hire a tuktuk for the day and start with a ride through the streets of Jaipur to the City Palace.
---
SEE WHERE THE MAHARAJAH STILL LIVES – City Palace Jaipur, home of the Jaipur Royal family.
We tour the City Palace in Jaipur museum, and see where the Royal family still live. A magnificent museum complex, where unfortunately photography is not allowed inside, but even the outside is beautiful.
---
ALMOST CRUSHED BY ELEPHANTS in the Amber Fort in Jaipur
Continuing with our tuktuk driver out to the Amber Fort (Amer) 11kms out of Jaipur. The attractive, opulent palace is laid out on four levels, each with a courtyard. Amer was the capital before it was moved to Jaipur in 1727. The fort was declared a UNESCO World Heritage site in 2013, as part of a group of six hill forts in Rajasthan. We tour around the inside of the palace, and then get really up close & personal with the elephants bringing people up to the palace on our way back down the narrow path to the road at the bottom,
---
WOULD YOU EAT HERE? Jal Mahal, lunch, Hawa Mahal & back to Delhi
Would you eat here? Continue on in Jaipur in our tuktuk to the JalMahal or water palace (that was really built as a duck hunting lodge). The palace, built in red sandstone, is a five storied building, of which four floors remain underwater. After that a very tasty cheap Indian meal in a restaurant that no tourist would probably dream of going in to (Shree Khandelwal Bhojnalaya). From there we stop in Jaipur for a view of the Hawa Mahal. Hawa Mahal ("Palace of Winds" or "Palace of the Breeze") is constructed of red and pink sandstone. The palace sits on the edge of the City. We then travel home to Delhi on the Jaipur to Sarai-Rohilla Delhi double decker train.
---
RED FORT DELHI and squirrels
We tour the huge area of the famous RedFort (LalQila) in Delhi, and see the Red Fort Delhi squirrels playing. In 1638 Shahjahan transferred his capital from Agra to Delhi and laid the foundations of Shahjahanabad, the seventh city of Delhi. His famous citadel, the Lal-Qila, or the Red Fort, was begun in 1639 and completed after nine years. The Red Fort is different from the Agra fort and is reputedly better planned.
---
MAN OR STATUE – Iskcon and Lotus Temples in Delhi
Come inside the Sri Sri Radha Parthasarathi Mandir or more commonly known as the ISKCONTemple (International Society for Krishna Consciousness), a fascinating look at this Vedic temple followed by a look at the LotusTemple Delhi which is a Bahá'í House of Worship that was dedicated in December 1986. Notable for its flowerlike shape, it has become a prominent attraction in the city. Like all Bahá'í Houses of Worship, the Lotus Temple is open to all, regardless of religion or any other qualification.
The International Society for Krishna Consciousness (ISKCON) is the spiritual institution founded by His Divine Grace A.C. Bhaktivedanta Swami Prabhupada in July 1966 as a continuation of the Brahma-Madhva-Gaudiya sampradaya. ISKCON was personally directed by its Founder-Acarya Srila Prabhupada until his departure on November 14, 1977. ISKCON belongs to the Gaudiya-Vaishnava sampradaya, or denomination, a monotheistic tradition within the broad Hindu culture. It is scripturally based on the 5,000-year-old Sanskrit text Bhagavad-gita.
The Hare Krishna devotees are known throughout the world for their melodious chanting of the Hare Krishna Mantra, which the Vedas declare as the most sublime and effective means for spiritual enlightenment in the current age:
Hare Krishna Hare Krishna
Krishna Krishna Hare Hare
Hare Rama Hare Rama
Rama Rama Hare Hare
---
RAJPATH AND INDIA GATE AT NIGHT – walk up the Rajpath to India Gate in the evening.
Tonight we catch the Delhi Metro to Central Secretariat and walk up the Rajpath to India Gate to see it lit up at night. A beautiful sight along with the lit up government buildings at the other end.
Rajpath which means King's Way is a ceremonial avenue centrally located in Delhi and stretches from east to west from Rashtrapati Bhavan through Vijay Chowk and India Gate. It is easily accessible by taxi, auto rickshaw and Metro with Central Secretariat being the nearest Station.
India Gate is an "Arc-de-Triomphe" like archway similar to its French counterpart. it commemorates the 70,000 Indian soldiers who lost their lives fighting for the British Army during the World War I. The memorial bears the names of more than 13,516 British and Indian soldiers killed in the Northwestern Frontier in the Afghan war of 1919.
---
INDIAN LEADER ASSASSINATED – see the memorials to 2 great Indian leaders.
Today we travel to the Raj Ghat, memorial site of Mahatma Gandhi who was assassinated on 30 January 1948 in the compound of Birla House (now Gandhi Smriti). Raj Ghat is the memorial of Mahatma Gandhi, the Father of the Nation. A black stone platform in an open air complex marks the spot where Gandhi was cremated. A flame constantly burns at one end of the platform and visitors are required to remove their footwear before they enter Raj Ghat.
We then continue to the Indira Gandhi Memorial Museum. Indira Gandhi was prime minister of India, the daughter of Jawaharlal Nehru, first Prime Minister of Independent India. On Wednesday, October 31, 1984, Indira Gandhi was gunned down by her own bodyguards as she left her house on the way to do a television interview. This historic museum was initially her residence. By visiting this museum, you can get a fascinating insight into the Indian independence movement as well as her life. The museum also displays the saree which she wore at the time of assassination. There is a glass plaque at the site she fell.
---
FREE LUNCH – plus a tour of the magnificent Gurudwara Bangla Sahib
Today we caught the metro to Patel Chowk & walked the short distance to Gurudwara Bangla Sahib, one of the main places of Sikh worship in Delhi. This magnificent white-marble gurudwara (Sikh temple) is topped by glinting golden onion domes.
Entry is free, you must be modestly dressed, and cover your head. Foreigners can go to the foreigner tourist office in the complex where they provide headgear, shoe storage and a guide all totally free. They will not accept payment, but there is a donation box if you wish when you leave – but absolutely no pressure. A meal in the langar hall is served to thousands daily. It is completely free, vegetarian and delicious. We have a look at the huge kitchen and enjoy the meal. We were more than happy to leave a donation at the end, but it is not expected or asked for.
The Gurudwara Bangla Sahib premises include the main prayer hall (containing the Granth Sahib, the holy book of the Sikhs), the water tank in the middle, a library, a museum, a hospital, a school and an art gallery. As similar to all gurudwaras, langar is served in the Bangla Sahib where everyone irrespective of religion, caste or creed is welcome to share a meal. The meal is vegetarian and excellent. The Gurudwara and Langar Hall are now air-conditioned. A new "Yatri Niwas" (Travellers Hostel), and multi-level parking space have been constructed. Toilet facilities are available. The space around the back entrance to the Gurudwara is also being spruced up, so as to give a better view from the roadside.
---
PEACE IN DELHI – A trip to Lodhi Gardens
Delhi's plentiful parks provide a refreshing respite from the city, and Lodhi Garden is the most extensive. This vast 90 acre expanse is peppered with the remains of a variety of historical monuments from the 14th century Tughlaq dynasty (which ruled the pre-Mughal Delhi Sultanate) up to the 16th century Mughal Period, making it a popular place for sightseeing as well as relaxing. The British developed Lodhi Garden in 1936 as a landscaped setting for the monuments. It was called Lady Willingdon Park but the Indian
Government aptly renamed it Lodhi Garden following independence from the British in 1947. The name reflects the garden's prominent monuments from the Lodhi dynasty, the last ruling dynasty of the Delhi Sultanate.
---
MUST KNOW FACTS TO USE THE DELHI METRO – our top hints
Many people have asked about using the Delhi Metro, so here we give some tips on how to use it. It is simple to use, and cheap – rides cost between from 10-60 rupees (20c to $1.20). It is quick and cheap compared to the road. It is also airconditioned (wonderful in the hot weather – Delhi can easily get into the high 40's C).
The metro has eight main lines, divided by colour – red, yellow, blue, green, violet, magenta, and pink – plus an eighth one, the orange line, that goes directly to the airport.
It is relatively new, with the first lines opened in 2002, and the newest opened in 2018. Stations are both underground & above ground. We used it quite a lot and found it good.
Most stations where two lines join have coloured feet or lines for you to follow if changing from one line to another.
Security is strict and all bags are x-rayed at the entrance and passengers are patted down – there are separate male & female lines.
Most trains are 6 or eight carriages long, and the front carriage is ALWAYS for women only. The trains are generally very clean & tidy.
There are also special seats in most carriages reserved for women and elderly passengers, but men frequently use these seats and are often forced to move – usually by older women!! It can be very crowded, especially in peak hour, with people forcing themselves onto the train. As in any crowded place beware of pickpockets and possible groping (be firm if this happens).
If carrying a backpack it is wise to wear it on your front on the Metro to deter thieves. Eating & drinking on the train is not allowed, but many Metro stations have kiosks where you can buy coffee, tea, and local snacks. Some of the stations even have entire food courts.
Fares are either by token from the machines in the station, or a card bought from the ticket counter at every station if you plan to use the metro a lot (it gives you a 10% discount off each trip).
Information is displayed and announced regularly, in Hindi and English on platforms and in the trains. Ask if you are confused. People are helpful and most of them can speak some English.
We also show you how to use the token machine.
---
IS THIS THE BEST TEMPLE IN INDIA – we thought it may be.
Today we go to a must see sight, a temple that we thought was the most magnificent of all we had
seen in India. The architecture, carving etc are quite something – SWAMINARAYAN AKSHARDHAM.
Akshardham or Swaminarayan Akshardham complex is a Hindu temple, and a spiritual-cultural
campus near the Akshardham Metro Station. It is enormous and magnificent. Free to enter with a free
ticketed cloakroom and reasonably priced food outlets inside.
The temple was amazingly built in only 5 years, is the world's largest comprehensive Hindu temple and opened in 2005.
Security is very strict:
– No cameras or phones are allowed inside
– All visitors must pass through metal detectors
– All visitors will be frisked by security personnel
---
ETIHAD – DELHI to ABU DHABI
Today we fly Etihad Airways from Delhi to Abu Dhabi on the start of our journey back to Australia via the United Arab Emirates, where we will spend 2 nights in Abu Dhabi, incorporating a one day tour of the main sights. It is a long way home, but we got a very cheap price for the flight which made it worth it. We check in to the Bin Majid Nehal hotel and then explore round our hotel and enjoy an Italian meal.
---
Abu Dhabi is continued on a separate page